Two hours to discover more sustainable ways of designing websites
On April 25th, I hosted an online workshop where I shared the insights and tools I've learned, explored, and implemented in my low carbon design studio, Hey Low.
‍
Today I'm sharing with you the recording and materials.
It's a compilation of all the knowledge, tips and tools I wish I had 3 years ago when I started the studio.

Join me and start your journey today.

In this 2-hour workshop, you'll learn:
What is the impact of the digital world
What is the impact of websites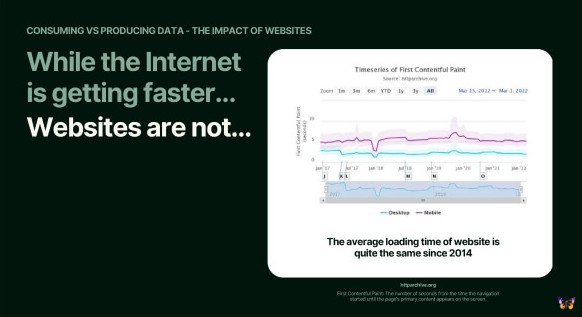 How to estimate data carbon emissions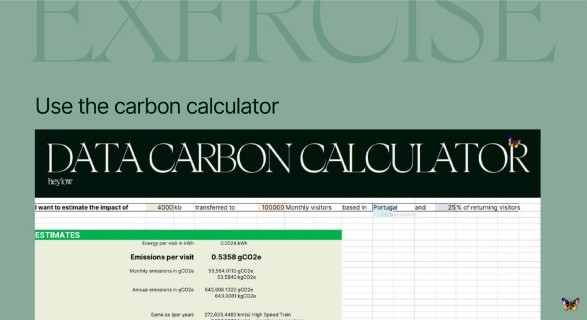 10 principles for Low Carbon Web Design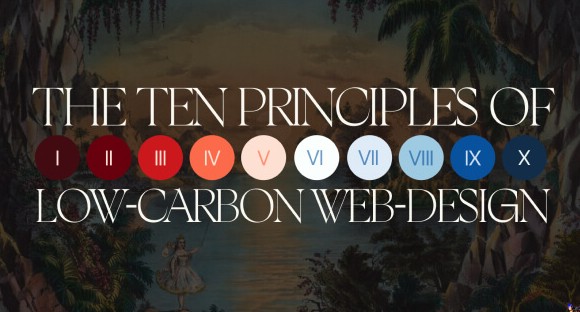 The benefits of Low Carbon websites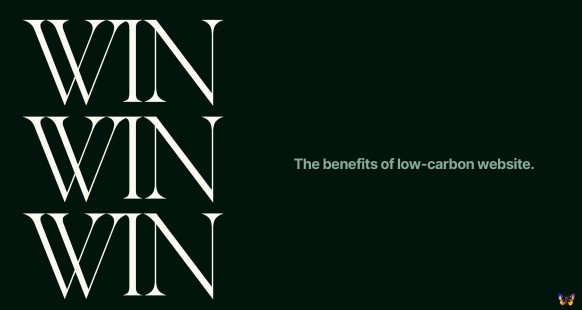 To look for new design inspirations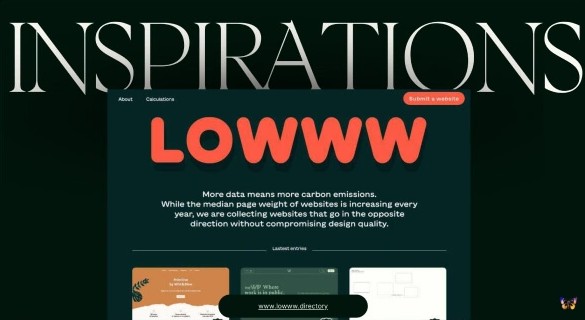 Watch a 2-minute preview of the workshop
Video size: 3.5mb
Reviews from the attendees
"
I think every web designer needs to attend your workshop.
The depth of information was great. I learned a lot."
Toshi Otsuka
Climate Designer Japan Lead
"
Big thank you for your work and facilitation on low carbon web design -
it's been super helpful + inspiring.
I'm looking forward to implementing some low-carbon design principles
. I hope you continue doing your workshops!."
"
What a wonderful presentation you gave today, with just a wealth of information. I'm excited to begin the process of improving the efficiencies of our website as well as our clients."
A data based pricing
The pricing model reflects the content of this workshop and why we have created a pricing structure that incentivizes more mindful data usage.
The base price is $15 + $0.18 per MB
Read
Bundle
5mb

Deck PDF + transcript** + Carbon Calculator

Buy
Listen
Bundle

95mb

Audio recording + Read Bundle

Buy
Watch
Bundle

375mb

Video recording (with English and French subtitles**) + Read Bundle

Buy
*Prices shown include an estimated 20% VAT (varies by country). The final price with VAT will be displayed upon entering the postcode at the payment.
**Subtitles and transcripts have been automatically generated and may not be 100% accurate.
A 50% discount is available to students and non-profit organisations
on request.
10% of the profit will be proceeded to:
Frequently Asked Questions

Who is this workshop for?
As the title suggests, web designers are the main target audience. However, if you are a web developer, project manager or even an agency owner, you could find valuable information and learn a lot from this content.
Who are you?

I am Nicolas Paries, a web designer with 15-year experience and founder of Hey Low, a digital studio building low-carbon brands and website since 2020.
Are you planning new live session of the workshop soon?

No. But feel free to send me an email to
[email protected]
to express interest.
Why is this not free?
I would love for these ideas to reach as many people as possible and would love to be able to share this for free. But this is not possible at the moment as I also need to support my work and make it sustainable in the long term.
Can I get my employer to pay for this?
Yes—many customers have gone this route. Most employers will readily invest in the education of their employees and with knowledge on low-carbon webdesign you will become much more valuable to your company.
Can I share my login info and the content with other people?
No. Each purchase allows for a single user to log in and access the product. Sharing your login info may result in deletion of your account. You will need to purchase additional copies for each person who needs to access the checklist.
Do you offer volume licensing for design teams and educators?
How does purchasing work? Is it secure?
Payment is made securely over SSL/HTTPS using any major credit card. The checkout process is handled by the platform Lemon Squeezy. You can find the terms here: https://www.lemonsqueezy.com/terms
What if I'm not happy with the product?
The live workshop was a full success, with attendees very excited and grateful for the density of knowledge shared. I really believe the materials are an awesome tool to start. If you are on the fence, then take a chance—I offer a no-questions-asked/no-drama money-back guarantee within 30 days if you aren't completely happy with your purchase.
‍
Can I trust the workshop's information?
The data and information presented in this document come from sources that I have found reliable through my research and experience. Some of the contents are also conclusions that I have drawn based on my expertise and experience of more than 15 years in this field.
I cannot guarantee the accuracy of the information it contains. All graphics and statistics may not be accurate or may have changed since the time of publication.
TERMS & CONDITIONS
Introduction:
By purchasing any digital workshop materials from our website, you agree to be bound by these Terms and Conditions. If you do not agree to these Terms and Conditions, you may not purchase any digital workshop materials from our website.
‍
Copyright and Use of Materials:
No part of this publication shall be reproduced, transmitted, or sold in whole or inpart in any form, without the prior written consent of the author. All trademarks and registered trademarks appearing in this guide are the property of their respective owners. You may not modify, reproduce, distribute, transmit, display, publish, license, create derivative works from, or sell any digital workshop materials purchased from our website without our prior written consent.
‍
Payment and Refund Policy:
All digital workshop materials are sold for a one-time fee, payable at the time of purchase. We accept payment through LemonSqueezy. Once your payment has been processed, you will receive a confirmation email containing a link to download the digital workshop materials.
Disclaimer of Warranties:
All digital workshop materials sold on our website are provided "as is," without any warranty of any kind, either express or implied, including but not limited to the implied warranties of merchantability and fitness for a particular purpose. We do not guarantee that the materials will meet your requirements or that they will be error-free or uninterrupted.
‍
Limitation of Liability:
We will not be liable for any damages of any kind arising from the use of digital workshop materials purchased from our website, including but not limited to direct, indirect, incidental, punitive, and consequential damages.
Governing Law and Jurisdiction:
These Terms and Conditions shall be governed by and construed in accordance with the laws of England. Any disputes arising under or in connection with these Terms and Conditions shall be subject to the exclusive jurisdiction of the courts of England.
Amendments to these Terms and Conditions
We reserve the right to amend these Terms and Conditions at any time, without prior notice to you. Your continued use of our website and purchase of digital workshop materials constitutes your acceptance of any changes to these Terms and Conditions.
Contact Information:
If you have any questions or concerns about these Terms and Conditions, please contact us at
[email protected]
Privacy with Cabin:
https://withcabin.com/privacy/lowcarbon-webdesign.com